Donaghmore 5 - Road Race, Fun Run & Walk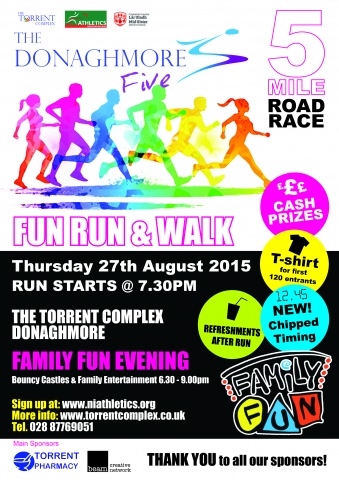 'Donaghmore 5' – 5 Mile Road Race & 3.5 Mile Fun Run & Walk
DOWNLOAD APPLICATION FORM HERE
DATE: Thursday 27th August 2015
TIME: 7.30pm RUNNERS
FEE: Pre-Entries: £12.0O On The Day Entries: £13.00
WALKERS FEE: Walkers: £7.00
MINIMUM AGE ALLOWED TO PARTICIPATE IN ROAD RACE: 15 years. U15's can participate in fun run / walk for FREE
Registration on the Day: Will take place at the Torrent Complex Sports Hall between 6.00pm and 7.15pm
Pre –Registration Evening: Takes place on Thursday 20th August 7pm – 9pm @ The Torrent Complex
Start Area: The race will begin on the Pomeroy Road (at the bottom of Hillview Avenue). Once you have registered please exit the Torrent Complex and make your way to the starting line.
Race Route: The 'Donaghmore 5' is a scenic run which is suitable for beginner runners as well as the more experienced. With a hill rise at the start of the race, the course is predominantly flat/downhill with a steady climb to finish just outside The Torrent Complex.
T-Shirts: The first 120 registered will be guaranteed a Commemorative T-Shirt.
Parking Facilities: Car parking facilities are available at The Torrent Complex. The stewards will direct you to your parking places and you will then be guided to the registration point. In the event of the car park being over capacity, we will be using the car park at St Joseph's Grammar school, a short distance away.
First Aid: First Aiders will be located at various locations throughout the course, if during the race you require assistance, please make contact with any of the Stewards. Changing and Toilet Facilities are available at the Torrent Complex, however due to the large numbers of runners expected you are kindly asked to arrive ready to run.
Water Stations: Water stations will be available at various junctions throughout the course.
Prizes: Prizes in various categories, including: 1st Male Open (£100), 1st Female Open (£100), 2nd Male Open (£50), 2nd Female Open (£50), U18 (£25), and 50+(£30). Prize giving will take place after the race in the Torrent Complex.
Refreshments: Tea, Coffee & refreshments will be served in the Torrent Complex from 7.30pm. EVERYONE IS WELCOME BACK AT THE COMPLEX!
Family Fun Evening: Fun for all the family! Bouncy Castles and family entertainment will be provided at The Torrent Complex from 6.30pm – 9.00pm.
View last years results here